Pesticide & Fertilizer Spill Clean Up
Accidental Pesticide & Fertilizer Contamination is Quickly Resolved
The release of fertilizer and pesticide compounds to commercial and residential properties poses unique cases to environmental consulting firms like Hyde Environmental. We're called on to provide soil remediation services and Phase I ESA reports for clients who believe they may be responsible for clean-up:
Environmental Cleanup & Remediation Services for
Pesticides
Fertilizers
Herbicides
Insecticides
Fungicides
Rodenticides

From Wisconsin to Illinois to Minnesota to Iowa, Hyde Environmental has helped hundreds of facilities, farms, and other properties handle fertilizer and pesticide contamination problems when they arise. If you're involved with buying or selling agricultural-chemical distribution facilities or property currently or previously located near farms and manufacturers, Hyde Environmental is your best choice for professional cleanup diagnosis and assistance.
Fertilizer & Pesticide Clean-Up Resources
Effective Regulatory Compliance:
Is Landspreading the Best Remediation Technique for Your Property?
In order to meet both state and federal regulatory compliance laws, environmental professionals need to have extensive knowledge of the chemicals and know which remediation techniques are appropriate to use for each spilled chemical. For example, when agricultural pesticides and fertilizers exceed allowable limits in soil, the most effective method may be to spread the soil onto crops in a thin layer – also known as land spreading.
At Hyde Environmental, our knowledgeable environmental consultants assess your property to determine which remediation technique is best suited for your land. You can schedule a basic Phase I ESA or request a more comprehensive assessment by including any of our additional consulting services:

If your property has a severe fertilizer, herbicide, pesticide or insecticide spill, landspreading may be the best solution available. Effective landspreading requires experience and knowledge of each chemical compound's normal agronomic application rate, taking into account local soil conditions and seasonal factors. Hyde Environmental has overseen and implemented landspreading procedures of contaminated soil for more than 50 locations throughout the Midwest. In other words, we have the environmental consultation experience you need when facing an emergency!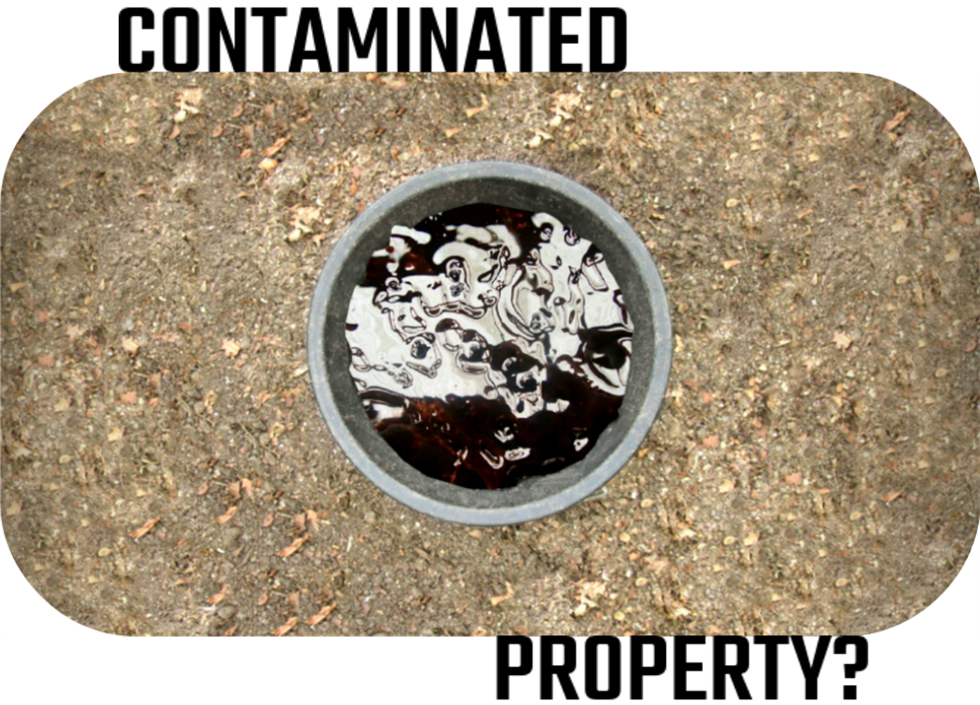 Common Chemical Pollutants
Fertilizers
Nitrates, nitrites & phosphorous

Nitrogen & phosphorous fertilizers create runoff which flows into water bodies and affects sea life.
Increased growth of algae can disrupt ecosystems.
Excess fertilizer can leach into groundwater and impact farming and vegetation.
Herbicides
Atrazine: Legal and commonly used in the US. Highly toxic to living creatures including birds and fish.
Glyphosate: Legal in some states. Banned in 17 countries for health and environmental reasons.
Paraquat: Restricted in the US by the Environmental Protection Agency (EPA).
Metam sodium: Legal and commonly used in the US. Prolonged exposure can cause birth defects. Highly toxic to birds and fish.
Insecticides
DDT: Banned in the US. Contributed to the decline of the Bald Eagle.
Aldrin: Banned in the US during the 1990s. Like DDT, labeled as a classic organochlorine that was popular during WWII.
Dieldrin: Banned in the US. Produced by the oxidation of Aldrin.
Methyl bromide: Legal and commonly used in the US. Prolonged exposure can cause birth defects, cardiac arrest, and nervous system damage in humans.
Telone II: Legal in the US. Carcinogenic soil fumigant has led to multiple deaths of farmers.
Chloropicrin: Legal in the US. Prolonged exposure causes severe respiratory damage to humans. Highly toxic to fish.
BHC (benzene hexachloride): Banned in the US in 2007. Highly carcinogenic and affects the human liver, kidneys, and nervous system. Prolonged, regular exposure can alter brain chemistry. Also known as Lindane.
Imidacloprid: Legal in the US. Banned in the EU. Created to mimic Nicotine and control sucking insects, termites, soil insects, and fleas.
Fungicides
Chloropicrin: Legal in the US. Prolonged exposure causes severe respiratory damage to humans. Highly toxic to fish.
Nicotine: Restricted in the US. Banned for organic crops. Pesticide usage dates back to the 1690s.
Arsenic: Restricted in the US. Group A carcinogen that's severely toxic to humans, yet used in a number of industries and released into the environment.
Rodenticides
Paris Green: Legal in the US. Exposure causes damage to wildlife and plants. Used heavily against rats in Paris during the 20th century.
Warfarin: Legal in the US. Rodenticides with warfarin can be used without causing adverse effects on humans or the environment.
Brodifacoum: Second-generation anticoagulant rodenticide. Restricted to professional use only in the US. Toxic to humans and other animals.
Difenacoum: Second-generation anticoagulant rodenticide. Restricted to professional use only in the US. Toxic to humans and other animals.
Bromadiolone: Second-generation anticoagulant rodenticide. Banned in consumer markets. Restricted to professional use only in the US. Toxic to humans and other animals.
Cholecalciferol: Restricted consumer and agricultural use in the US. Used in bait traps to kill rodents.
Agricultural Chemicals Used in Wisconsin: Clean Up Your Spill with Hyde Environmental
Hyde Environmental specializes in the assessment and diagnosis of pesticide and fertilizer spills in Wisconsin and across the Midwestern states of the US. With corn and potatoes being two huge crops grown in the state, there is a slew of chemicals Wisconsin is no stranger to. Designed to keep insects and pests at bay, agricultural chemicals are an essential aspect of any manufacturer, farmer, or industrial facility's success. If your property has a spill, Hyde Environmental is prepared to face any number of potential herbicides, pesticides, fertilizers, or insecticides, including:
Wisconsin Agricultural Fertilizers, Herbicides, Insecticides & Pesticides

Acetochlor

Atrazine

Clopyralid

Dicamba

Diflufenzopyr-sodium

Dimethenamid-P

Flumetsulam

Glyphosate

Mesotrione

S-Metolanchor

Temobtrione

Thiencarbazone-Methy

Nitrogen

Phosphate

Potash

Sulfur

Azoxystrobin

Boscalid

Chlorothalonil

Copper Hydroxide

Cymoxanil

Difenoconazole

Mancozeb

Mandipropamide Technical

Mefenoxam

PCNB

Propamocarb Hydroch

Pyraclostrobin

Tirphenylitin Hydrox

Zoxamide

Linuron

Metolachlor

Metribuzin

Pendimethalin

Rimsulfuron

S-Metolachlor

Metam-Sodium

Spinosad

Clothianidin

Imadacloprid

Thiamethoxam

Diquat Dibromide

Maleic Hydrazide
Unlike other industrial chemicals, these compounds are intended to be applied to agricultural fields. Even if you own a residential property, it's important you have a Phase I or Phase II ESA performed on your land before selling it to eliminate your liability for any chemicals potentially present. It isn't uncommon for fertilizers and pesticides to travel miles when rain pushes chemicals into makeshift streams. Don't risk future costs when your buyer's environmental site assessment reveals herbicides or insecticides on their property from a manufacturer up the street - stay ahead and contact Hyde Environmental today.

Cost Reimbursement Claims: Programs in Wisconsin, Kansas & Minnesota
Programs that reimburse companies for most costs resulting from cleaning up the accidental release of pesticides and fertilizer compounds are known as cost reimbursement claims. These programs target agricultural and chemical wholesale and retail facilities which had inadvertent releases during normal operations. Three states in the Midwest have such programs, including:
Wisconsin

Minnesota

Kansas
Each state program is different from the others. For example:
Wisconsin
The program requires bids and detailed cost analysis and estimates before any work begins.
Kansas
The program requires prior approval of the technical approach, but no bids or cost estimates are required.
In order to receive compensation, all programs require the applicant to submit a detailed claim that documents the eligibility for each cost. It is important to work with an Environmental Consultant who has extensive experience and knowledge of both state regulatory programs and reimbursement programs. The Hyde Environmental team assists with the navigation of the programs, providing maximum reimbursement.

Containment Regulations for Agricultural Pesticides & Fertilizers in Wisconsin
You may or may not be responsible for a spill on your property, but no matter your situation, it's important you're following agricultural laws when storing fertilizers and pesticides on a property in Wisconsin. The Wisconsin Department of Agriculture, Trade and Consumer Protection has a strict set of regulations, covering a number of factors regarding pesticide and fertilizer storage:
Approved Liners
Concrete Repair Contractors & Suppliers
Sample Spill Response Plan
Caulk Recommendations
Concrete Design Contractors
Cleaning Up Hazardous Chemical Spills Throughout the Midwest
Hyde Environmental provides spill cleanup services and full environmental site assessments for key locations in the upper Midwest. Tell us where you live and call us out to assess your property, provide a diagnosis, and direct you towards a cleanup solution as soon as possible.
Contact Hyde Environmental to solve any pesticide and fertilizer compliance issues.
Pesticide & Fertilizer Spill Clean Up Case Studies