Environmental Consulting Services
Hyde's Environmental Consultants Assess and Remediate Properties Across the Midwest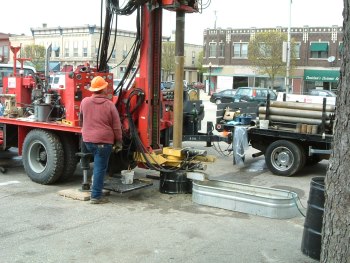 Hyde Environmental provides environmental consulting for private, state, federal and local clients throughout the Midwest. Our clients consist of chemical and petroleum distributors, manufacturing firms, law firms, engineering companies and more. We provide a variety of services, including:
With decades of experience, the Hyde senior staff stays heavily involved in all aspects of each project we perform. The only way to protect yourself from short- and long-term liabilities is to choose an experienced environmental consulting firm who will represent your interests every step of the way. If site investigation and remediation/remedial action are necessary, our forward-thinking team will assess the path toward closure from the beginning, instead of pushing your project into a perpetual (and costly) monitoring program.

Midwest Environmental Consulting: Phase I & Phase II ESAs
As a top environmental consulting firm in the Midwest, Hyde Environmental serves clients located in Wisconsin, Illinois, Iowa, Indiana, Minnesota, Missouri, North Dakota and South Dakota. Our team of consultants conducts Phase 1 environmental site assessments, Phase 2 environmental site assessments, groundwater hydraulics tests and site investigations to discover liabilities on your property. Our environmental remediation strategies are cost-effective and meet both client needs and regulatory requirements.
From an herbicide soil contamination cleanup in Illinois to a petroleum leak in Kansas, Hyde Environmental has a proven track record of carefully and swiftly returning client properties to a clean and healthy state. View our project gallery showcasing the projects our team has completed. Additional services include chemical spill cleanup, diesel spill cleanup and soil remediation services.
Serving All Major Industries
Hyde Environmental provides environmental consulting for companies across all major industries.
Construction and Development
Oil and Gas
Manufacturing
Utilities
Real Estate and Property Development
Mining
Transportation and Logistics
Waste Management
Agricultural
Pharmaceuticals and Chemicals
Contact the Midwest environmental consultants at Hyde for more information or to schedule a consultation. Hyde Environmental offers environmental consulting in Illinois, Indiana, Iowa, Michigan, Minnesota, Missouri, North Dakota, South Dakota, Milwaukee and all of Wisconsin!